Welcome to Scott & Son Automotive
Here when you need us for all your garage repairs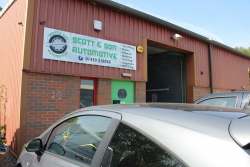 We're an independent garage who provide a full range of services for your car, van and light commercial vehicle at a reasonable cost here in Hawick. We carry out high quality repairs, we are fully insured to provide piece of mind and deliver the best service possible, we fit brakes, exhaust systems, tyres, and all the usual things to keep you motoring. We can also arrange your MOT and carry out all necessary MOT repairs, we have a well equipped workshop that is also secure and safe for your vehicle.
Need a repair now, just call in for a quote or call us on 01450 218050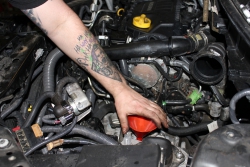 If you need a quote just call in Monday to Friday between 8.30am - 5.30pm or call us on 01450 218050, to arrange for our mechanic to inspect your vehicle on a day and time to suit you. If you live local in the Hawick area we can collect your car and return once repairs have been carried out.
Serving Hawick and the Scottish Borders
We're easy to find, located on Weensland Road, Hawick at the Esso Filling Station,  ideally situated for customers travelling throughout the Scottish Borders as we always aim to go above and beyond for customer satisfaction and we have many happy customers spanning the Scottish Borders from Hawick, Selkirk, Galashiels, Jedburgh and Denholm.